NATIONALISM-EUROPEAN CIVILIZATION-WHITE GENOCIDE-CHRISTIANITY.
WHITES YOU MUST FIGHT BACK-THE ENTIRE UGLY AND VIOLENT THIRD WOLD SKUNKS ARE TAKING OVER OUR COUNTRIES. THE UNITED STATES WILL BECOME A THIRD WOLD INFECTED CESSPOOL WITH NON-WHITES SUBJUGATING US AND OUR DESCENDANTS. THERE WILL BE CHAOS, RIOTS, AND DESTRUCTION.
LET'S MAKE AMERICA WHITE AGAIN. FUCK ALL THE NON-WHITE SCUM.
From: snopes.com
Make America White Again
A Tennessee congressional candidate put up a billboard exhorting voters to "Make America White Again" as part of his political campaign.
Dan Evon
Claim: A billboard that says "Make America White Again" is part of a political campaign.
TRUE
Origin:On 22 June 2016, a photograph purportedly showing a billboard for a Congressional candidate named Rick Tyler, bearing the slogan "Make America White Again" along with pictures of various white American historical figures and a white family was widely circulated via social media:
Although the image was also published by several legitimate news outlets, many viewers remained skeptical that anyone running for Congress would employ a slogan that seemed so blatantly racist.
According to Nashville television station WSMV the "Make America White Again" billboard was put on display off of Highway 411 in Polk County, Tennessee, by independent Rick Tyler,& who is running for a congressional seat in Tennessee's 3rd district that is currently held by Republican Chuck Fleischmann. A (since-deleted) statement posted by Tyler explained the rationale behind the billboard from his point of view and offered a preview of putative future campaign billboards:
The "Make America White Again" billboard advertisement will cut to the very core and marrow of what plagues us as a nation. As Anne Coulter so effectively elucidates in her book, Adios America, the overhaul of America's immigration law in the 1960's has placed us on an inevitable course of demise and destruction. Yes ... the cunning globalist/Marxist social engineers have succeeded in destroying that great bulwark against statist tyranny ... the white American super majority. Without its expedited restoration little hope remains for the nation as a whole.

The following are examples of other billboard designs we plan to bring forth in the coming months. We ask you to prayerfully consider putting meaningful financial support behind this brazen and determined crusade for truth.












The controversial billboard was apparently taken down on 21 June 2016, and Tyler's campaign web site has also been inaccessible since then (possibly due to an unexpected crush of traffic. Tyler offered a lengthy response to the brouhaha engendered by his campaign billboard in a (since-removed) Facebook post:
Let me begin by thanking everyone that has gotten involved in the controversy spawned by the "Make America White Again" billboard on Highway 411 in Polk County. I am persuaded that the overwhelming majority of you are sincere and well intentioned. Obviously, there are the "frothing at the mouth lunatics" who react in a completely irrational, emotional, Pavlovian dog fashion. Fortunately, they are a small percentage of the whole—and even they are passionately sincere albeit ignorant, misguided and lacking in self control.

A PREDICTABLE AND DESIRED RESPONSE

Be assured, the response that has been engendered by the billboard is precisely what was expected and hoped for. You see... this is not a mere publicity stunt, but rather a calculated maneuver to dispense hardcore truth while simultaneously doing an end run around the iron curtain of censorship. As Orwell stated, "In a time of universal deceit, telling the truth is a revolutionary act." Unfortunately, a globalist cartel has long held power in our nation, and in effect, there has already been a soft revolution wherein lawful constitutional government has been supplanted by a rogue band of oligarchic criminals. Those who seek to set things aright are actually counter-revolutionaries, endeavoring to facilitate the restoration of lawful, constitutional government.

Whether you realize it or not, you are all participating in this counter-revolutionary exercise irrespective of where you stand on the matter!
Indeed, the brainwashing may well be too far advanced, and there may be no chance of restoration, rejuvenation, and revival in our once great nation. Like the watchman spoken of in Ezekiel 33, some of us must sound the warning of the advancing and ominous peril that is encroaching upon our civilization as a whole. Like Nineveh, there could be great repentance and revival in America. If not, we will succumb to the fate of Sodom and Gomorrah.

For those who are posturing in a high and mighty stance of ostensible moral superiority, I would caution you against falling into the trap of modernism and the liberal watering down of truth. Your fathers, grandfathers and great grandfathers would have been entirely sympathetic and supportive of the preservation of a white super majority in America. They would have been utterly hostile to the concept of the mass nonwhite immigration that has ensued over the past half century. They would have never acquiesced to the schemes of forced racial integration foisted upon the states by a usurpatious federal government. By capitulating on these and other related issues, you are dishonoring your fathers and mothers of old in a flagrant and treacherous violation of the 4th Commandment. In the fulness of time, God will surely hold you accountable for this violation of his sacred law. As Isaiah 5:20 states, "Woe unto them that call evil good, and good evil; that put darkness for light, and light for darkness; that put bitter for sweet, and sweet for bitter!"

AM I A RACIST?

The charge of "racism" is the most flagrant and abusive canard of our time. Absurdly, those who bandie about the charge never bother to define its meaning. Is a racist one who harbors antipathy toward someone simply based on their ethnicity? If so only a foolish person would fit such a description. If, on the other hand, we are talking about someone who demonstrates greater affinity for his own racial family (your race is the extension of your biological family) then the charge would be truly preposterous. Ethnocentricity is completely healthy and normal and all races, except the white race, are encouraged to engage in and express it. The glaring double standard is all too obvious.

ABOUT THE BILLBOARD'S MESSAGE

The "Make America White Again" billboard is a takeoff on Donald Trump's slogan of "Make America Great Again." In a nutshell, it is stating that the "Leave It to Beaver, Ozzie and Harriet, Mayberry" America of old was vastly superior to what we are experiencing today. It was an America where doors were left unlocked, violent crime was a mere fraction of today's rate of occurrence, there were no car jackings, home invasions, Islamic Mosques or radical Jihadist sleeper cells.

Additionally, government was much smaller, responsible, and accountable to the people. Yes, that Norman Rockwell America was immensely preferable to the rapidly deteriorating culture now engulfing us. Only the ignorant and misguided would resist its restoration and resuscitation. As set forth on the Tyler for Congress website, (www.ricktylerforcongress.com) a moratorium on nonwhite immigration and the abolition of policies that subsidize nonwhite birth rates would be two constructive actions toward beginning the long journey back toward sanity and stability in our beleaguered and foundering nation.

A WHITE SUPER MAJORITY

It is no coincidence that every nation being inundated by the teeming multitudes of the third world is a white nation. It is indisputable that the white race has achieved infinitely more in the way of technology, culture and innovation than the nonwhite civilizations of history.
The racial component of this phenomenon is all-important. In a blind, suicidal manner modern man overlooks this profound truth while plunging headlong toward destruction.

SOUNDING THE CLARION CALL

The Caucasian race has been inordinately blessed and favored by the God of scripture. It was among this people that the new covenant gospel of Jesus Christ took root, blossomed, and flourished. Western Christian civilization evolved in the ensuing centuries leading to the eventual rise of our beloved America of yesteryear. As time progressed however, our nation and people lost their way. America forsook the God of her fathers and turned to the false gods of the heathen world. Now we are a people under divine judgment with a very grim future staring us in the face.

The Tyler for Congress candidacy is a last ditch effort to challenge the descendents of America's founders to "return to the ancient landmarks." Scattered throughout the land are the proverbial seven thousand who have not bowed the knee to Baal. (I Kings 19:18) The remnant of God may not be large enough to facilitate restoration of that which has been lost... but we will proceed to carry the torch in the hope of miraculous and divine intervention.

The incumbent lawyer and representative of the 3rd Congressional District voted for the 1.1 trillion dollar spending bill in December; which among many nefarious expenditures allocated funding for the importation of 100,000 Syrian refugees, a large number of which are straight off of the Jihadist battlefield. A full-blown Muslim invasion is underway while a criminal, runaway federal government gobbles up what remains of liberty at breathtaking speed.

CONCLUSION

Amazingly, while being oblivious to the aforementioned circumstances plaguing our nation, a substantial number of low information citizens are easily whipped into a frenzy by the mythological enemy of "racism." Sadly, it never occurs to the reactionary mob that they in fact, are guilty of the grievous sin of rejection of truth. Yet, just as Jesus was able to miraculously give sight to the blind, God is still in the business of peeling the scales off of men's eyes. Yes, he gives grace to the humble but resisteth the proud. (James 4:6.)

Concerning the hostility emanating from various directions I would say the following:

We believe in Libertarian principles of free speech and freedom of association. All are free to go where they desire as well as refrain from going where they do not want to be. Of course, these same individuals will continue to patronize all manner of franchises and national chains that truly are the embodiment of corruption and exploitation. Yet another example of hypocrisy and double-standards.

Will the Rick Tyler for Congress campaign gain traction and become a force to be reckoned with? Only time will tell. When all is said and done however, the truth will prevail. Of that we can be assured.
BLACKS MUST BE RESTRICTED IN CONCENTRATION CAMPS. THEY DON'T DESERVE TO LIVE IN A CIVIL SOCIETY. ALL THE WELFARE PAYMENTS, FREE HOUSING, FOOD STAMPS , SECTION 8 ALL MUST BE TOPPED OTHERWISE BLACKS WILL KEEP MANUFACTURING MILLIONS AND MILLIONS MORE ILLEGITIMATE CRIMINAL CHILDREN. WE MUST SOLVE THIS BLACK PROBLEM NOW BECAUSE IT WILL NEVER GO AWAY.
TREASON: OUR POLITICIANS ARE SELLING US OUT TO THIRD WORLD INVADERS. SAVAGE MUSLIMS AND ALL OTHER THIRD WORLD SCUMBAGS ARE TAKING OVER AMERICA WITH THE CONSENT OF OUR DEMOCRAT AND REPUBLICAN POLITICIANS IN THE U.S. CONGRESS AND THE CO-CONSPIRATORS IN OUR FEDERAL COURTS AND THE U.S. SUPREME COURT. WHITES WAKE UP.
*********************************************
The Invasion of Buffalo
Destroying America city by city.
September 8, 2016
Daniel Greenfield, a Shillman Journalism Fellow at the Freedom Center, is a New York writer focusing on radical Islam.
Millard Fillmore was born in a log cabin in upstate New York. Fifty years later, he took office as the thirteenth president of the United States. Around that time he sold off a piece of land. That land became the neighborhood of Lovejoy in the city of Buffalo.
Lovejoy was named after Sarah Lovejoy who had been killed defending her home during the War of 1812. British forces had assaulted American towns once again by using their Indian allies as a terror weapon. Buffalo, now a major city, was burned to the ground with only four buildings left standing.
Mrs. Lovejoy told her son Henry, a 12-year-old boy who shouldered a musket too heavy for him to bear, to flee into the woods. She stayed behind. When the savages invaded her home, she tried to defend herself. The invaders killed her with a tomahawk and scalped her body. A neighbor described how her "long Black hair reached to the Floor clotted with Blood." Other families fled on sleds into the snow.
When the locals returned a few days later, the only living thing in Buffalo was a cat. There were no other survivors. Only corpses.
But within a week they began to rebuild. By the time Fillmore sold his land, it was a city of 40,000. By the time Lovejoy was a neighborhood, it had surpassed 100,000. German, Polish, Jewish and Italian immigrants quickly filled Lovejoy and clung to it with the same tenacity that Sarah had.
And then another savage invasion began.
In the past decade, Erie County "resettled" nearly 10,000 refugees. Most of them have been inflicted on Buffalo and Black Rock, the same targets as that original invasion two centuries ago that claimed Sarah's life.
Buffalo has four resettlement agencies working to bring as many Muslims as they can. Among them is the International Institute of Buffalo which was set up after WWI to bring "war brides" to America, but which now specializes in bringing Muslims here instead. Tickets to the Institute's big event, Buffalo Without Borders, run as high as $10,000 a piece, and it is billed as "A Party Only the IIB Can Throw."
One of these parties featured chocolates "inspired" by Iraqi Muslim migrants.
In Lovejoy though the price ranges are a little different. Like Sarah Lovejoy, the residents of this area, once Polish and Italian, are under siege.
A few months after September 11, Frank Scalisi passed away at the age of 92. For 50 years, Frank and his wife Edith had run Rosati's Supermarket. Frank had presided over the Buffalo Retail Food Dealers and served as deputy sheriff for the Marine Division of Eric County. He coached a softball team in the sixties that became known as "The Goosport Phenomenon".
And then Rosati's was no more and in its place was the IGA Community Express Mart run by the Alshami clan. The Alshamis were part of the flood of Yemeni Muslim migrants who had washed up in Buffalo.
And the Muslim Yemeni population has a way of making headlines.
Six Yemenis made up the infamous Buffalo Cell, who had attended the Al Farooq training camp in Afghanistan, met with Osama bin Laden and were convicted for providing material support to Al Qaeda. The seventh member of the cell, Jaber Elbaneh, is a fugitive still wanted by the FBI, which describes him as armed and dangerous.
There is a $5 million reward on his head.
The Alshamis were not quite so ambitious. There were no suicide bombings. Rosati's Supermarket went from a neighborhood institution to a rat's nest. There were illegal cigarettes for sale, building code violations, glass pipes and blunts, sales of secondhand merchandise without a license, cars present without license plates and piles of trash. There were multiple complaints about drug dealing and accusations that the Yemeni shop attracted drug dealers and possibly even sold drugs.
On the corner of Ludington and Davey, where the small modest houses fly American flags, this outpost of Yemen had become a malignant sore for the community.
Councilman Rich Fontana said, "Frank Scalisi would be turning in his grave if he knew what was going on there now."
There's little doubt of that.
Ahmed Alshami, the grim patriarch of the clan, was arrested with crack cocaine in his car. He was accused of making drug deliveries and berated neighborhood activists by posting a picture of himself raising the middle finger and boasting, "Long stay the Arab stores."
Then he smashed someone over the head with a bottle.
Finally he was charged with massive food stamp fraud for buying food stamp cards from customers for pennies on the dollar and then going to Walmart to stock his shelves. Not to mention a spot of burglary.
Ahmed Alshami skipped out on Buffalo City Court, announcing that he was too busy. So his bail was set at $2 million. His wife shouted, "We've got the million dollars!" and "F___ America."
The family, whose patriarch had ten previous arrests, and whose presence in Buffalo has been a source of trouble, have done that already. There is talk of deporting Alshami to Yemen if he's convicted, but considering that Yemen is currently little more than a battlefield between Shiite and Sunni Jihadists, that seems highly unlikely. Without major reforms to our immigration and criminal justice system, they are here to stay.
The Alshami antics of shouting "F___ America" made their case go viral, but they're not the exception.
Just last year, Samir Hassan of City Market & Deli in Buffalo pleaded guilty to buying food stamps, Bandar Alsaidi and Talal Alsaidi were busted for buying food stamps at Big Boys Food Market also in Buffalo to the tune of $300,000, just as their parents before them had back in 2003 when it was known as Al's Food Market.
This year, Alie Hassan of Buffalo's Broadway Mart and Deli was given two years probation for buying food stamps. A few years ago, Riyadh Almadrahi of Zip's Food and Beverage made over $140,000 by buying food stamps. The year after it was Nasser Ali Ghanem and Yousef Yafai of the Hollywood Nights Prime Shop. The crimes echo each other and they are ubiquitous.
When politicians promise us that Muslim migration will create small businesses and produce jobs, they forget to mention who will be paying for them. There are some 5,000 Yemeni Muslim settlers in Buffalo. Population numbers have increased as much as 242%. While the traditional population in the area declines, with Christian and Jewish populations falling, the Islamic population continues to grow, fed by refugee resettlement.
Cheerful news stories celebrate how "refugees" are "bringing Buffalo back." The question raised by the Alshamis and so many of their compatriots is what is Muslim migration doing to Buffalo?
Large numbers of Muslims have been dumped in the area from Afghanistan, Iraq, Somalia, Sudan and Yemen. Buffalo's heritage and its working class roots are being traded for the Koran and the hijab.
Buffalo is listed by the State Department as a "preferred community" for resettling migrants. Sizable numbers of Syrian Muslim migrants are headed there now. It's even been studied by European advocates for migrants. But the cost to ordinary American neighborhoods like Lovejoy has been overlooked. Media accounts trumpet the Iraqi markets opening up, they don't look at what those markets are up to. There are celebrations of ethnic food accompanied by the decline of local American communities.
Buffalo has faced catastrophe before and recovered. But the question is how long will it take to salvage it from this latest invasion. America is being targeted, invaded and carved up town by town and city by city. Much as two centuries ago, Buffalo is being invaded. But the invaders are not a weapon being used by a foreign government against Americans. Instead this weapon is being wielded by our own government.
"We hate white children" says anti-Trump Campaign
• May 4, 2016 •
The "Stop Donald Trump Public Action Committee", a group which opposes the Presidency of Donald Trump has Tweeted "We hate White children #OnlyOffWhite."
They were responding to a Tweet which said "all off ur 'principals' lead to a America that doesn't include white children.."
Responses to their Tweet have ranged from agreement to calling the group anti-White.
"I agree. Hate those Krackas" one Twitter account said.
Another account said "Finally you #Cuckservative antiwhites show your true colors."
Of course they hate White children. Children are the future, and they don't want the future to have White people in it.
Collectively, anti-Whites have forced "diversity" on White countries. Their aim is to eliminate White countries. This agenda is very clearly White genocide.
This may sound eye-rollingly over the top, but actually, the legal definition of genocide states that genocide is nothing more than an agenda to get rid of a group. In short, it does not have to be violent or involve rounding people into camps.
The anti-White elite hope to eliminate White areas with "diversity". That fits the definition of genocide.
ASIA

for the

ASIANS
AFRICA

for the

AFRICANS
"

DIVERSITY"

only for
WHITE COUNTRIES
ALL MUSLIMS MUST BE PLACED INTO CONCENTRATION CAMPS WHILE ORGANIZING THEIR DEPORTATION.
Islamic scholar: future Germany must have "no more blue eyes and light hair"
• May 17, 2016 •
Lamya Kaddor, a German-born Syrian woman and scholar of Islamic studies, was applauded on TV for calling for a future with no more native White Germans alive.
"I think that we have to be aware that we are a country of immigrants" she said.
"'Being German' will mean having a migration background in the future."
"This is what being German will mean in the future! No more blue eyes, light hair and claiming 'we're all German'!"
"Being German also means wearing a Hijab [and] having dark hair. This is what being German means today!"
For predicting the total annihilation of native White Germans, she was given a round of applause by the audience.
This is by far one of the sickest crimes on the planet. The elite are trying to wipe out majority White societies with mass non-White immigration, or as they call it: "diversity."
This is White genocide – an international crime – and it does not matter how many times they chant "diversity" like mindless drones.
"Diversity" is just their codeword for White genocide, because only White areas are targeted.
Immigration, illegal and legal non-White immigration is a death sentence for America and all the White Christian Countries.
CLOSE THE BORDERS. STOP ALL NON-WHITE, NON-EUROPEAN IMMIGRATION. THEY ARE ALL WHITE HATERS.
Whites in all Christian Nations: United States of America, Canada, New Zealand, Australia and Europe must fight back and protect their future and the future of their descendants. We have allowed into our Countries all the right enemies who have ancient grudges against us.
Filthy third world savages.
We are united with our sisters and brothers of Canada, New Zealand. Australia and all of Europe in this fight to preserve our civilization. We have to get rid of this scum that our politicians have allowed to enter into our beautiful Christian Countries.

We are dying out of existence because our traitorous politicians have allowed millions and millions of barbarians in our Countries. It's time for the military to intervene in Europe and re establish law and order and arrest all the traitors.
It's time for people in Europe to revolt against this government's generated White Genocide.
DONALD TRUMP FOR U.S. PRESIDENT
Donald Trump is the only hope for saving America and a strong voice to save all the other White Christian Countries. Whites wake up!!! Brainwashed, multiculturalists Whites you're doing nothing but helping those who would like to see you dead and gone. All non-Whites hate us.
Japan Refuses to be Invaded by Multiculturalism
SHARE: Facebook Twitter Google+ Email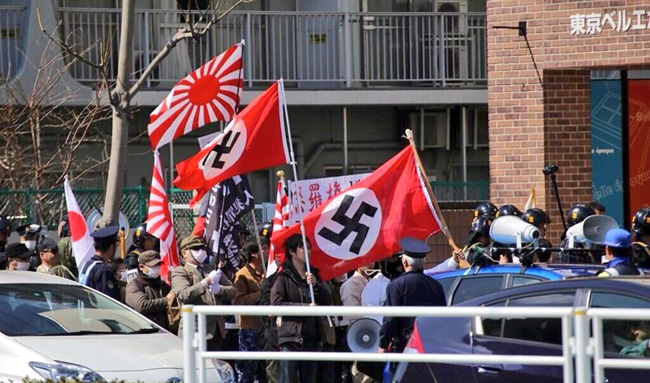 The Japanese government - well aware of the dangers to their continued existence as a culture, civilization, and racial entity - have come down firmly against the liberal notion of "asylum seekers" and mass Third World immigration, despite mounting pressure from the outside world.
Japan's strict immigration policy has come into focus once again with the widely-parroted news by the controlled media that "asylum seekers in Japan" had reached a record 7,586 during 2015, and of that number, only 27 had actually been accepted as genuine.
It was, however, pointed out that some of those accepted as genuine, may have been waiting for years. In 2014, Japan accepted 11 "asylum seekers" out of the 5,000 who applied.
The racial makeup of the "asylum seekers" who have applied in Japan also makes interesting reading: Nepal provided the largest number of applicants in 2015, accounting for 1,768 individuals, while 969 people came from Indonesia, and 926 from Turkey.
None of these nations can in any sense be considered "unsafe"—a lesson that the liberal Europeans still cannot understand—and the chances of any of them actually being granted asylum in Japan is zero. Of the 27 people granted asylum in 2015, six are from Afghanistan and three from Syria.
Japan is well-known for its peaceful homogeneity, and quiet but effective control of its borders to prevent the mass invasions which European countries have allowed—and encouraged—to take place.
Even when liberals occasionally call for the lifting of immigration restrictions—using the easily-disprovable "ageing population" argument—they are quickly slapped down.
Current Prime Minister Shinzo Abe, for example, is on record as saying that he is opposed to easing immigration rules, "particularly for unskilled foreign workers, because of the social and economic tensions that could arise from the introduction of different ethnic groups."
His Chief Cabinet Secretary Yoshihide Suga said in November 2015 that the Japanese government would not review its immigration policy, even if it allowed "more foreign labor in certain sectors, such as ship-building and construction, which is needed to prepare for the 2020 Tokyo Olympic games."
"Foreign countries have undergone and experienced various difficulties in accepting immigrants," Suga said, in an obvious reference to the Third World chaos currently tearing up western Europe.
Posted in Uncategorized. Tagged ghetto, Jamaica Queens.
Let's break this down. Our community is filled with a shitload of homeless shelters, many filled with chronically unemployed people who hang out in front of the buildings all day or wander around, a large portion of our residents are low-class trash that do not care about themselves let alone their environment or community, gang bangers all over the place, the criminal element in every nook and cranny, tons of dirty delis all over the place with young men hanging inside and outside plying their drug trade, too many section 8 folks, oh, at lets not forget useless and corrupt elected officials. SO WHAT THE FUCK DO YOU EXPECT, a drop in crime. As long as Jamaica is a home for the bottom of the barrel of society, crime will be up and Jamaica will continue to be a low class ghetto.
SIMPLE MATH.
—————————————————–
From Queens Press:
Posted in Jamaica Queens Elected Officials/Leaders. Tagged 103rd precinct, ghetto, Jamaica Queens.
From 1950's Jamaica Fabulous to 2014 Jamaica low-class third world ghetto crap.
I cannot think of anything better than this to represent the extremely sad state of affairs in Jamaica.
Posted in Garbage Galore. Tagged garbage, ghetto, Jamaica Queens, Third World.
Sure we all had a feeling that entrenched and very loved Leroy Comrie was going to win the Senate election, but what is extremely disturbing is that crook Senator Malcolm Smith actually placed 2nd, while newcomer attorney Munir Avery came in last.
Comrie had 69.9 percent of the vote with 73.1 percent of the precincts reported, according to preliminary results from the AP, Smith HAD 19.5 percent and Munir Avery came in third with 10.6 percent.
Wow, new comer and attorney Avery came in last, while a crooked and pretty useless Jamaica elected leader, who is going to trial come January, beat him for 2nd place. And we never did get a chance to get Navy Vet, Bernadette Semple, on the ballot due to Comrie's shenanigans and what the hell happened with attorney Clyde Vanel, who mysteriously dropped out. Says so much about the Jamaica ghetto mentality and politics.
Ghetto politics, ghetto leaders, ghetto residents. Yes, Virginia, Jamaica is SO GHETTO. For more on ghetto politics, read the very interesting and must read article below.
From the Black Agenda Report:
While walking to CityRib to have their brunch on Sunday, I encountered the usual ghetto crap shit. So here we go again.
1. Slumlord house with multiple apartments (some I am sure are illegal). Garbage containers without lids. This has been reported numerous times, I have lost count.
2. Next to 160-11 89th Avenue and pretty sure belong to the shitty single room shelter (or whatever the fuck it is) for really low-class ghetto shit. You wonder why we have a rodent problem. This is just a block away from CityRib restaurant. Real damn nice folks.
3. Apartment building at 168-07 89th Ave. Saw a huge rat scurry by. Amazingly this shithole place has 17 apartments and three garbage cans and one recycle container. One definition of Ghetto.
4. Empty store front next to 89-41 164th St in downtown Jamaica. I have reported this numerous times and as can be seen this shit has been here awhile, so you all know this is a problematic area for dumping but no one checks it on a regular basis.
5. And what do we have here.
Ah, a closer inspection shows a stream of some kind of liquid coming from this fine upstanding Jamaica resident's penis.
Riddle: What do you get when you cross low class ghetto slobs, with major bottom of the barrel third world immigrants and useless dickwad leaders?
Answer: Jamaica
Posted in Garbage Galore. Tagged Downtown Jamaica, ghetto, Jamaica Queens.
Case in point.
Executive Arms Apartment Building (obviously a slumlord building) located at 88-15 168th St with the garbage area located on the NE corner of 168th St/89th Ave.
The Columbus Day weekend in Jamaica brings these little goodies:
1. SW corner of Jamaica Ave/165th St, a source of constant dumping in the downtown section, more than likely from the livery cab drivers that hang on this corner. Does not help there is no garbage can here.
2. The old chestnut "Three Card Monty" scam on Jamaica Ave. It's the 80's all over again.
The name should change to "Jamaica Ghetto Lottery".
3. Empty nail salon with graffiti and ripped sign with dirty deli next door, always a source of garbage out front, including adult homeboys with nothing better to do.
4. The old "pissing in the cup" routine, like no one will notice on 165th St as people pass by. Always good for business.
5. Side lot of the Executive Apartments located at 88-15 168th St. Lot is on NE corner of 89th Ave/168th. Plenty of violations here.
Super looks on in the 2nd pic.
6. Apartment building at 168-07 89th Ave. Saw two huge rats scurry as I took the photo. Wonder why rats would be there?
7. On east idea of the above apartment building (168-07 89th Ave). What slobs, just toss your garbage out the windows. Need to go thru driveway of house next door to see this.
8. Lot next to Heron Care Inc at 168-30 89th Ave. Does not look like too much here, but give it a few more days.
10. Empty house at 89-25 168th Pl. Has been sitting like this for a couple of years, since DOB put a stop work order in place. Now it just fills up with garbage.
11. Empty lot at 169-13 90th Ave. Always a source of dumping. Little Teddy keeps his eyes peeled for scraps.
12. Ghetto house at 170-04 89th Ave. I see violations here. This was formerly "Roy Academy", whatever crap that was.
13. Another ghetto house two doors east at 170-12 89th Ave.
14. Across from the crap above is the empty lot at 89-19 170th St, again always dumping here.
15. Dead end of 89th Avenue off of 171st St. Always garbage dumped here. Maybe Comrie can rename this street, Ghetto Crap Street.
16. Back of apartment building located at 89-19 171st Street. This mess can be seen and entered at the dead end 89th Ave side or the 90th Ave side. This huge ghetto apartment building is always a mess with garbage and I am sure other violations.
17. Of course the typical filled with "household garbage" public garbage can at Hillside Avenue & 173rd.
18. Ah, ye ole Jamaica mattress on the street at 89th Ave/172nd. Classic Ghetto.
19. Major Mark Park at 174th St and Hillside Ave.
Was not sure if someone was living here.
Posted in Garbage Galore. Tagged Downtown Jamaica Queens, ghetto, Jamaica Queens, Major Mark Park, Rufus King Park.
Le's face it, Jamaica Queens is a mess, no matter what some people will say.
It is a mess, it has hit below rock bottom, it is a garbage dumping ground, it is filled with low class ghetto people who do not give a shit
, it is filled with "so called upstanding citizens" who also do not give a shit and do not take any kind of action, it is filled with totally useless and corrupt elected leaders who not only do not give a shit, but do very little or nothing at all to help improve the area
and it is pretty much the wild wild west where anything goes and there are very little consequences for behavior. Want to put a car on the street without a license plate, go right ahead, because very little will happen.
Want to toss your baby's diaper or fast food containers on the sidewalk, well go ahead, you will not receive a littering summons.
Want to create illegal apartments in your building, no problem, Department of Building is as useless as 12 years of Councilman Leroy Comrie. Want to keep your vacant lot a garbage dump, go right ahead.
Want
Posted in Garbage Galore. Tagged ghetto, Jamaica Queens, South Jamaica Queens.
And of course what ghetto would not be complete without the prerequisite mattress tossed on the street.
ENJOY THE COMING DIVERSITY!!!!!
Third World Jamaica, New York.
Building located at 89-15 170th St and owned by slum lord Baldev Singh, this was the scene of a "ghetto barbecue."
But in no time this adaptable run down shit hole space can become a "ghetto basketball court".
This is what you get when you allow in this once beautiful Country third world savages who cannot be civilized.
ALL THESE PROPERTIES WERE OWNED BY WHITES WHO HAD TO ABANDON THEM AND RUN AWAY AFTER THE PASSAGE OF THE 1964 CIVIL RIGHTS ACT AND THE PASSAGE OF THE 1965 IMMIGRATION AND NATURALIZATION ACT WHICH OPENED THE BORDERS OF THIS COUNTRY TO MASSIVE, UNREGULATED, THIRD WORLD, NON-WHITE IMMIGRATION.
Posted in Garbage Galore in Black, Hispanic, third world invaded New York. Ghetto Jamaica Queens, Jamaica Queens Garbage, low class Blacks Hispanics Asians Muslims, third world non-White sub-animals.
FAIR USE POLICY: These videos and other materialsare posted and shared for educational, non-commercial purposes to spur debates over current issues of national and international importance. All credit is given to their authors and producers and we thank them for their efforts.